Collect rare digital art
and NFTs with NOW Wallet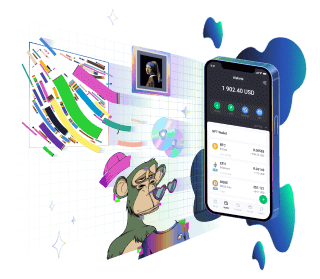 Get wallet NOW
Free of custody
In a few steps
Operational 24/7
How it works
We have a number of benefits that will improve management of your NFT wallet
Access Benefits
Create your own NFT collection
Collect unique pieces of digital art all in one place. We will store them securely and you can access them in our app at any moment.
Send and receive NFTs
You can send your NFTs to any user in two simple clicks and also easily receive NFTs right into your wallet. NOW Wallet supports NFTs on Ethereum (ERC-721 and ERC-1155 standards) and Solana. NFTs on Binance network will also be added soon 🔥
Securely store your NFTs
Your NFTs are safe and sound with us. Feel free to set up a password whilst entering the app and take advantage of the ability to backup your assets to ensure their safety.
Buy and Sell NFTS
Marketplace function is coming soon! Marketplace will allow users to purchase and sell NFTs right in the app without any additional hassle.
Value of NFTs
NFT is a non-fungible token that is stored on a blockchain and represents a unique piece of a digital file or a real-life asset. NFTs are irreplaceable and unique. NFT art is praised for its inclusivity and the possibilities it provides a diverse range of artists with.